It's time to Celebrate!
Let's throw a Party!!
1st, we need to pick out a cake at the Bakery:
(Cakes done in the hoop to fit a tea light candle)
Then we need to make some cookies and appetizers: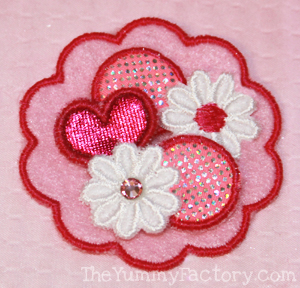 We need some party hats and decorations: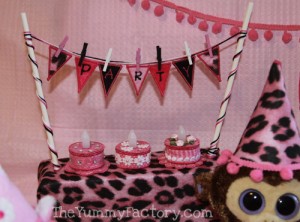 We need to set the table:
We need to invited some friends:
Have some yummy appetizers girls!!
OK, everyone sit down at the table, we are going to sing Happy Birthday to the Birthday Girl:
Turn off the lights so the candle on the cake can light up the room:
Happy Birthday to you, Happy Birthday to you,
Happy Birthday dear Lexi,
Happy Birthday to you!
Cake for everyone!!
The animals used in this set are 6″ Beanie Boos, made by TY.  They can be found at Justice for Girls, and many other retail stores.  The Cakes are done with teal light candles, and would be so cute given as a little gift to a co-worker or a friend.
Almost every little girl I know is collecting them.  I can't wait to give this set to Lexi for her 11th birthday.  She is going to love it!!!
This set will also work with dolls, hats fit nicely on an 18″ doll, (American Girl Dolls)
Thank You for coming to our party!!  We loved having you over.
Love,
TheYummyFactory.com
---