My kids have been watching the Ghostbusters movies, and loving them!
Sooooooooo, I decided to play a joke on them. (from their little sister of course)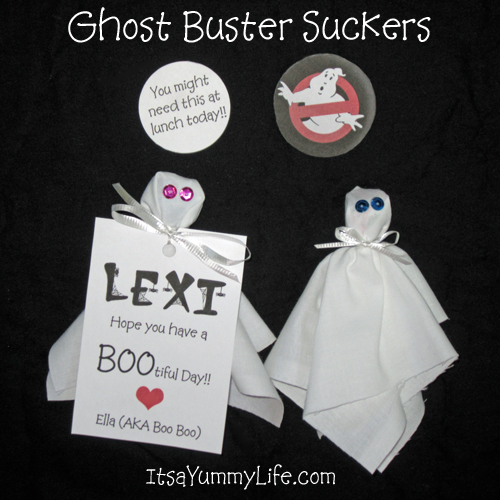 I glues the 2 circles shown above back to back.  I'm putting this in their morning snack bags for school.  Doesn't every Ghostbuster need an offical badge?
It says "You might need this at luch today"
Then, when they have lunch, they will find a GHOST!
The Tag says "Hope you have a BOO-tiful Day!" Love, Ella (AKA Boo Boo) ((we call her Boo Boo))
You can download a PDF if you would like to send a Boo-tiful Sucker to a Ghostbuster you know.  Look on my yahoo group under Halloween Fun for the free download:
Ghosts are Dum Dum suckers with an 8″ square piece of white cotton cloth, and Sequin eyes of course. 
Here is my very sad attempt to draw pumpkin faces on spoons with a sharpie. The kids love them.  I guess they aren't as picky as Mommy.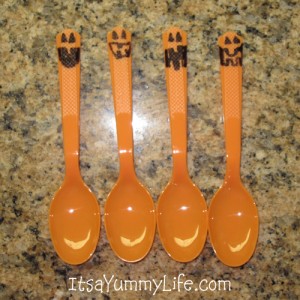 Last but not least, my fun little Napkin Notes:
  These are re-usable napkins.  I embroidered lunch notes on each of them, and have to say, I am really enjoying having these to put in the lunches.  They love telling my about the message they got.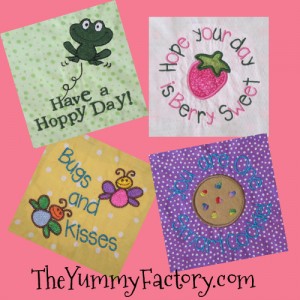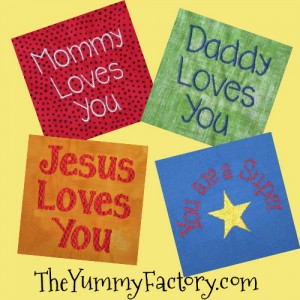 Have a Boo-tiful Day!!
Holly