I had to make this little bag.  Both of my girls are all about fairies.  We have all kinds of fairy books, we make fairy gardens, and we are always trying to see one.  It's so magical, and I love every minute of it.
Everytime we go anywhere,  it seems we can't pass a fountain, pond, or puddle we don't stop to wish in.
I made this little bag with a magic wishing wand: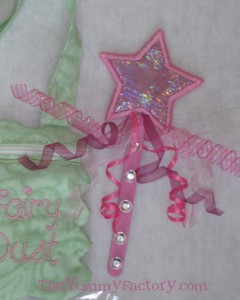 It has fabric on both side with an opening at the bottom to insert a pencil or a popsicle stick.  I curled the ribbon, painted a popsicle stick, added some bling, and voila, it's ready grant wishes!!
Add them to a pencil.  It's a wand that writes magical things!!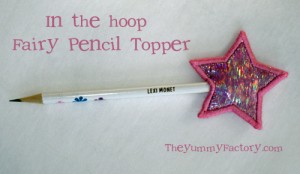 Can also be used as a pencil topper.  Would be adorable as favors for a Fairy Party, or a Princess Party.  I ordered personalized pencils from OrientalTrading.com.  I love them!! I order them for my Girl Scouts, parties, for Christmas, for gifts!!  They are an easy way to make anything have that extra touch of personalization.
Lexi is crazy about rainbows.  So I thought we needed some fairy dust for all the colors in the rainbow.  This printable little card fits in the purse, just incase you need to help anyone decide what kind of wish they need.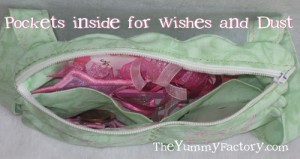 Inside the purse there are pockets.  One for Wishes, and one for Dust.  The bigger section of the purse is perfect for a camera.  You never know when you will spot a fairy and if you're lucky, you will sneak a picture of one!
Everything done in one hooping.  Even the zipper is done in the hoop!!  Love that!!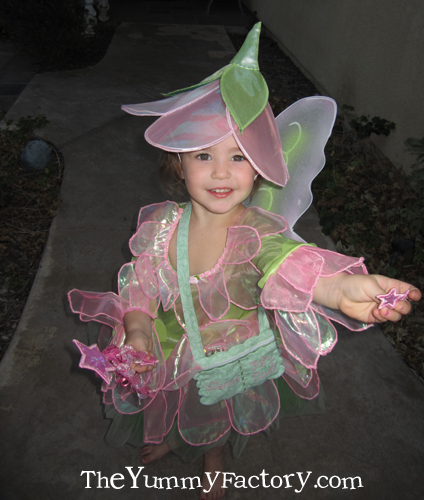 Here is my little Ella Rose (her name actually means Beautiful Fairy) So she is my little Fairy Flower.  :)  She is passing out wishes!!
The wishes are about 1″ and thick.  They have stiff felt in the middle, so they are fun little chunky stars.  Lexi wants a million of them.  Looks like I will be making some more.  The good news, I can do a bunch of them in one hooping.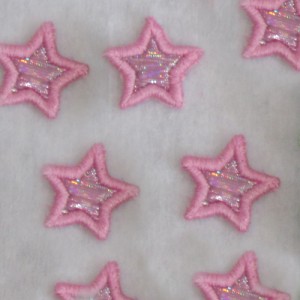 Ella getting out more wishes.  She'll be granting them all day!!  What do you wish for??