Let me start off by saying, we are beach people.  Warm weather and sand under our toes.  That's our thing.  We live in Southern California, and can wear flip-flops almost all year.  Feeling like a bad mom because our kids haven't been to the snow very much, we decided to take a trip to Lake Tahoe for 8 days!  So thankful to our friends Michael and Calista for inviting our family to go with them. 4 adults and 6 kids.  Defiantly a recipe for a good time!  They had sleds, jackets, snow pants, gloves, snow boots for all of us.  It was great!!  The kids had the time of their lives!!  Snowball fights, snowmen, snow angels, sledding, ice skating outside at Heavenly, Circus Circus, hot wings, and of course I had crafts going all the time in the cabin.  I know, I am crazy, but I didn't want them to get cabin fever.  Funny ha ha, Lexi thought cabin fever is something you catch, and get an actual fever.  Made me laugh.  Danny and I aren't much better.  While driving up, our window was dirty, and Danny decided to wash it.  It froze all over the window.  LOL  We are so out of our element. and to think I used to go snow skiing all the time before I had kids.  I need to do that. I really love it.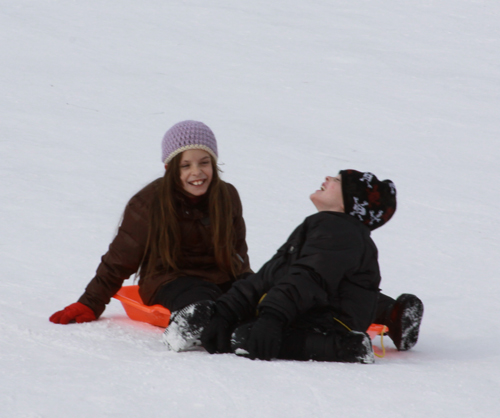 On Jan 1st we started our smash books.  I brought books for all the kids in the cabin.  I cut out their names with my Gazelle, and stickers to decorate.  Here is Bella's.  I think it turned out cute.  Jack's has dogs all over it.  It's adorable too.  I need to take a pic.
We colored the snow with food coloring in water bottles.  Kids thought this was really fun.  The cabin is on a huge lot, so they had a giant canvas to paint.
And..  The Fairy Town…  Complete with colored snow and glitter.
I hot glued rhinestones on gloves for all the girls.  They loved them because they liked looking like they were wearing giant diamond rings.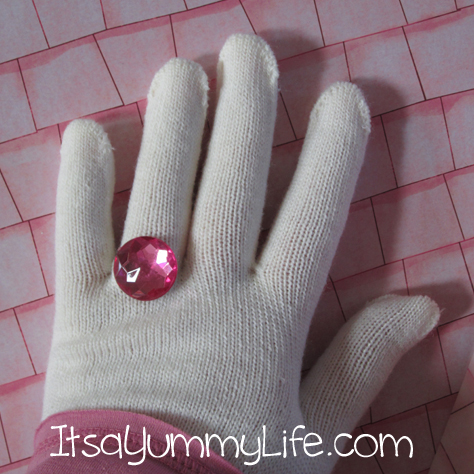 I also did a pair of mittens for little Ella with Heart shaped rhinestones. (Matching bling on her socks too.  Love it!)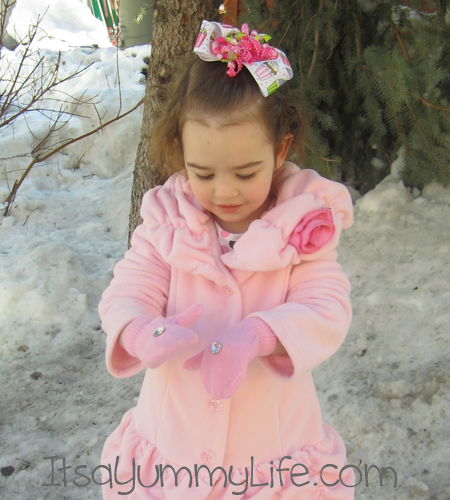 We cooked all kinds of fun things in the cabin.  We made Playdough, Cinnamon Snowflakes and Peanut Butter Balls.  We decorated gingerbread men, and played games.  It was a really relaxing trip.  Much needed after all the Christmas excitement.
Cinnamon Snowflakes:
Flour Tortilla, fold twice, cut out little triangles here and there.  Unfold. Fry in butter in a fry pan on both sides until it browns.  Sprinkle cinnamon and sugar on both sides immediately.  Eat and enjoy!  We made a stack of these and they were gone in a flash!
"Mommy's Famous Peanut Butter Balls"

Do you like the name? My kids are too funny.  Everything that tastes good is famous.  These are one of their VERY favorite things I make.  definitely making the A list.  These were so popular in the cabin, I had to make them, not once, but twice!!  No bake, and fun to make!!  Love it!  These are easy, and great to take to a party. You can make them heart-shaped, egg-shaped, decorate to match your theme. You can download the recipe on my Yahoo group under files.  Lots of other freebies on there too!  Click on the Pic to get there.  Bet ya can't eat just one!!