I scream! You Scream!  We all scream for Ice Cream!!
What can I say?  I know it's only April, but I can't wait for summer to get here.  It was hot today, and the kids were in the pool, so I had to make something summery-yummy! 
Cinnamon Toast Crunch Chocolate Carmel Ice Cream Cones!!
Here is a pic of mine.  It was just as tasty as it looks.  Carmel dripping all over the place.  It was wild!
So here's how easy they are:  I love these little chocolate cups.  You can get them in the grocery store by the fresh strawberries, they are called "Dolci".  They are the best!!  Heat in the microwave, dip, and throw them away.  Zero mess!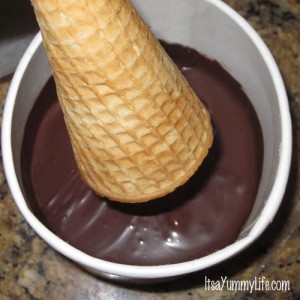 I crunched up Cinnamon Toast Crunch Cereal, and I have to tell you, if you haven't tried it on vanilla ice cream, you need to.  It's Amazing!!  Add a little carmel, maybe a banana.  Trust me, your mouth will smile, (FOR A WEEK!) 
So dip, sprinkle the crunched cereal, and add sprinkles, anything you have in your stash.  Then Set on a piece of parchment paper to dry.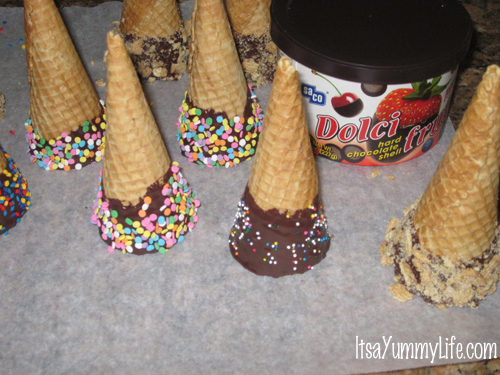 Find some kids, (and adults, a-hem) and start scooping!!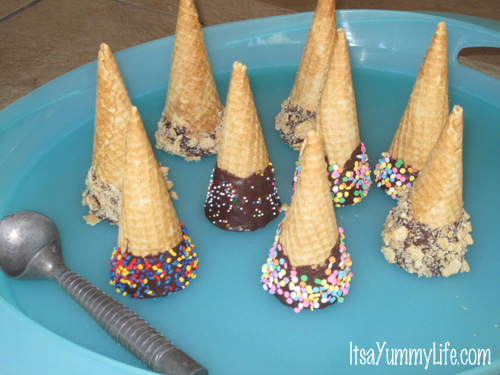 Then make them all smile at you, when all they really wanna do is eat the yummy treat you just gave them!