I am not sure why I love Piggy Banks so much?  Maybe because they hold treasure, that holds dreams, that can eventually bring great joy to the beholder.  No one ever saves for anything bad, it's always something grand, exciting, or fun.  I love it!!  Piggy banks for Everyone!!
Each Piggy is done in one hooping, easy peasy!!  Piggy Banks in 3 sizes: 4×4, 5×6, & 6×7
Click on this link to get to the Piggy Banks:
http://www.theyummyfactory.com/index.php?act=viewProd&productId=409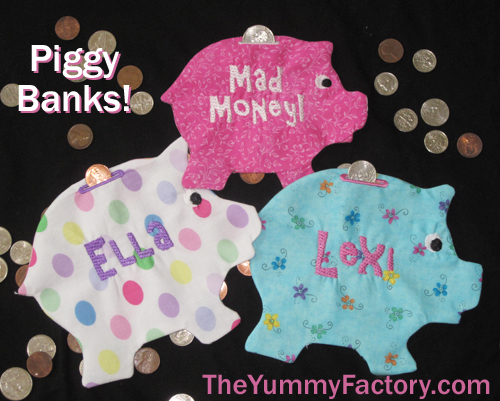 This little piggy could also be for Laundry Money, Funny Money, Swear Piggy, (you have to pay the piggy every time you say a bad word) Vacation Money, Gas Money, Hopes & Dreams, Bingo Money, scrapbook money.
A set of 3: Give, Save, Live
Love the set of 3…
Jack's Piggy had to be Baseball fabric,  He's my little baseball Star! 

What will your piggy say?