Rainbow Art Party for Lexi Monet's 10th Birthday!
I had so much fun with this party theme! Love It!
The Invite:
 A little art portfolio made from a paint chip of course. 
  I photo shopped a bunch of pics of Lexi, put them on a strip of paper, folded , and glued them to make a little art book.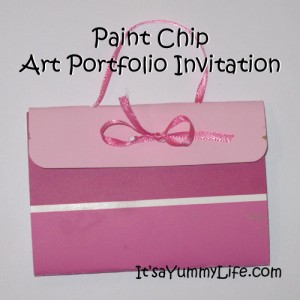 When you open the portfolio these are the pages you see:
Rainbow Food and Drinks
BBQ and Rainbow fun!!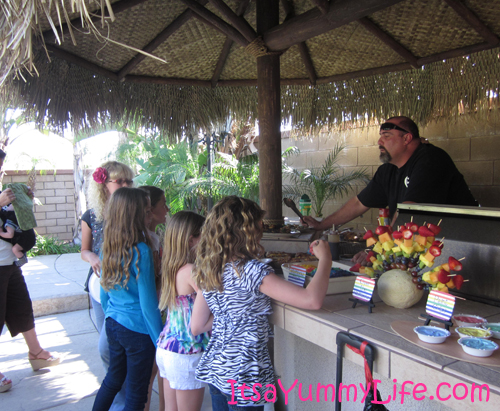 Fortune Drinks!  Drop a few drops of food coloring in each glass, fill with ice, and let the girls pick a glass.  Then fill them with 7Up.  As the 7Up fills the glass the color magically appears. The girls loved it!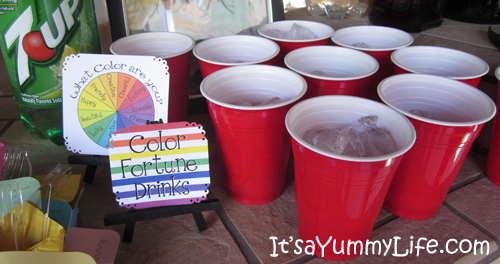 Paint Chip Silverware holders.  I quickly sewed 2 of them together with a fun stitch.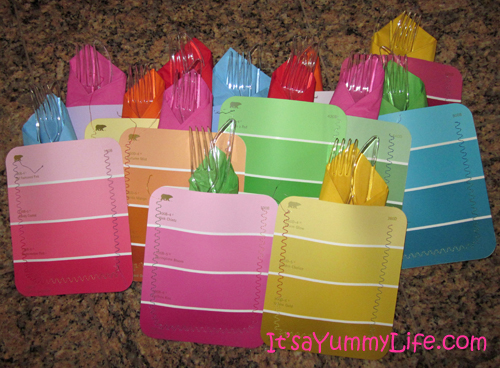 Paint Chips!  Yes, actually Paint your chips!!! Ranch dip mix in all colors of the rainbow!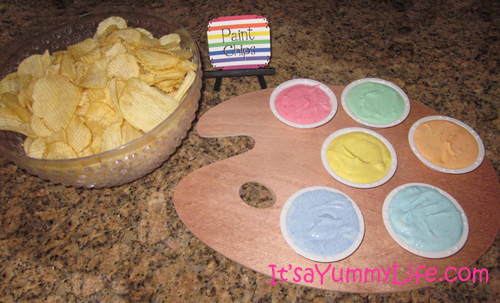 Rainbow Mashed Potatoes.  So weird to eat blue mashed potatoes.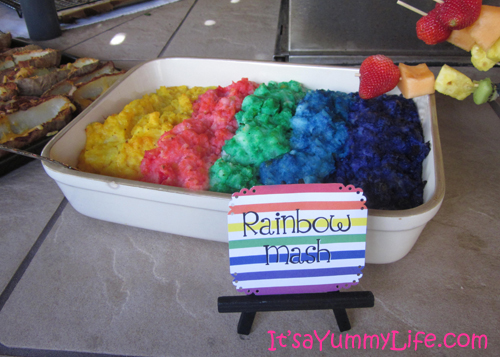 Over the Rainbow Fruit Kabobs.  Love this one!!  Just slice off a little on the bottom of the melon so it stands up straight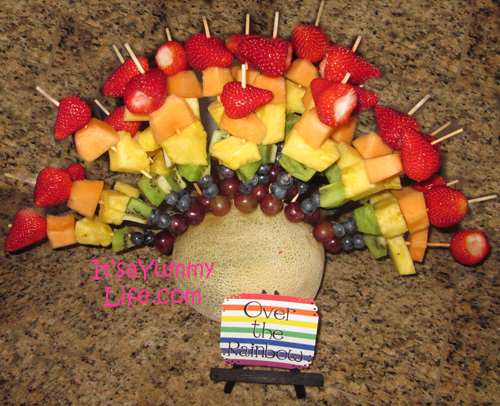 Games: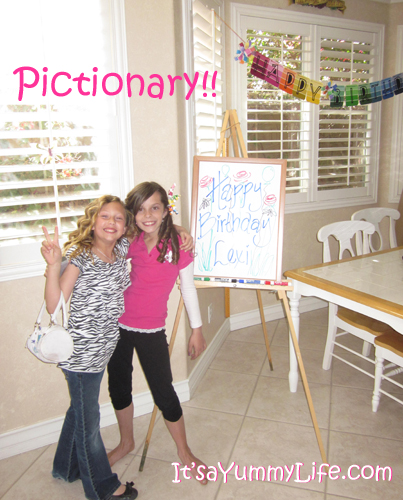 See the paint chip Birthday banner? 
  Love it!!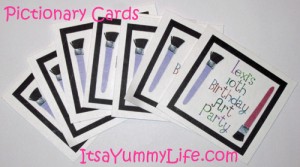 The Freckle Game
  Girls have 1 minute to put as many freckles on their friend's face.  Freckles were made from hole punching construction paper.  Freckles applied with water.  The girls LOVE LOVE LOVED this game!!

Draw a Friend Game: 
Have girls sit in a circle, and give each girl a piece of paper, and ask them to write their name on the paper. Draw a circle, pass right, draw an eye, pass right,  another eye, pass right, draw hair, pass right, and so on… Girls loved to see the final portraits.  It was a good laugh.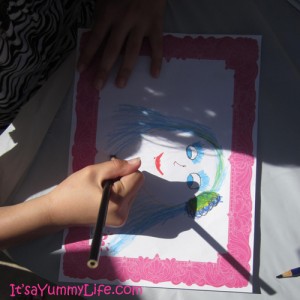 We hung them all up on the window for everyone to see. Later they became the cover for each art portfolio the girls took home.
Guess Your way down the Rainbow Game
Line the ground with two rows of rainbow construction paper.  All girls start at the end of the rainbow.  I held a small toy in either my right or left hand for each round.   Girls had to decide to stand on the left red or right red square.  If they guess the correct hand, they get to advance to the next color of the rainbow.  First girl to the end of the rainbow wins!  They loved it so much they asked to play again.
Time for Cupcakes!!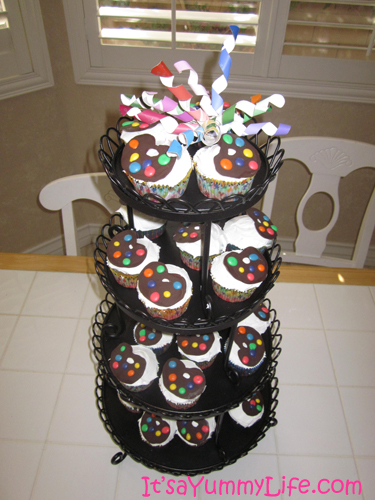 Paint Chip Cupcake topper.  I just cut strips, rolled them, pulled to get them to stay, and hot glued onto a circle card stock.  I also made them to go in the girl's hair by hot gluing them onto hair clips.  Super easy and love how they turned out!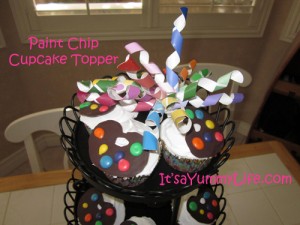 Inside I did the cake rainbow by using white cake mix, separating into little bowls, coloring each bowl, and spooning in one color at a time into each cupcake.  Everyone of them got eaten.  Loved the fun little rainbow cakes!!
The paint palettes were so last-minute!!  I printed a page of paint palettes to use as a template.  I piped melted chocolate on wax paper with template under as a guide.  I let them dry, turned them over and piped royal icing dots on the top.  I finished them all in about 30 minutes.
Before the party, I painted No.2 pencils and sealed them with acrylic spray to go in the art portfolios.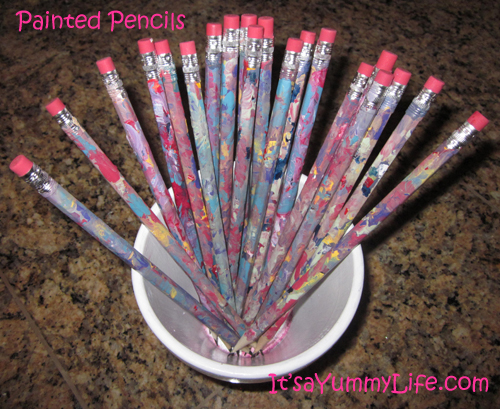 Paint Chip Banner!! (We call this the Tree house, even though it is not in a tree, the girls had lunch up there.  It's the secret non-parent place)
Close up of this kind of bow.  Again, hot glue and paint chip strips. Have I mentioned I had a too much fun with paint chips?
Finally Lexi opened all of her presents.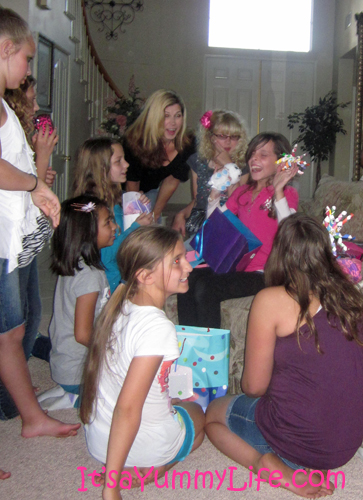 Happy 10th Birthday to our little Lexi Monet!!  We are so proud of you, and love you so much!!  So lucky to be your Mommy. Hugs
---