Soooo, I love to do scrapbooks, but sadly, I hardly ever do it.  Soooo, I decided to keep a journal this year, where I could add pictures, doodles, and whatever strikes my fancy.  I also had my Girl Scout troop do them, and made one for my sister.  I am really excited about this silly little book.  You can download a free PDF on my yahoo group under files so you can make one too!
Click on this link for my yahoo group, it is under files, printable goodies, smash book: 
This entire book is printed on 8 1/2″ x 11″ copy paper.  All cut in half to make 5 1/2″ x 8 1/2″ pages.
For the cover, I cut a cereal box up and covered with scrapbook paper on both sides.  (glued with rubber cement) Which I have plans to add rhinestones and a Giant glitter H to soon.  Mama likes her bling!
I added water-color pages to mine.  Here is a silly doodle painting I started of my kids: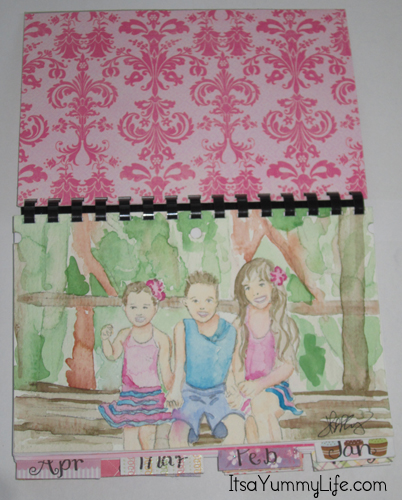 The date tabs are 2″ square scrapbook paper folded in half, glued with rubber cement, and I wrote the months on them. 
These are my favorite pens, Precise.  They are great for doodles and fancy letters.  This rubber cement pick up, is one of the things I couldn't live without.  I rubber cement, everything, and this makes it all nice and neat.  :)  Rubber cement dries quick, and doesn't warp paper with a thin coat.  It is a must in any craft room.
There are questions in your printable for each day of the year.  I copied the original set from here, and amended a bit.
Each month has pretty scrapbook pages added to glue pictures on, graph paper, lined paper,  water-color paper and envelopes in the back to stash things in.  The binder is the perfect place to keep a pen.  I have a flower pen in mine, it is perfect, because the flower holds it in place.  (Plus is it cute and makes me happy)
I added an answer page:
I added this page to my sisters book just to be funny.  I put a little tab on it that said, start here.  She got a good laugh from it.
Here is me teaching my Girl Scouts how to write a little fancy. (Not my best work)  This download included a page on how to fancy up your letters too.  I was so impressed with how well they did with their letters.  Really talented little bunch.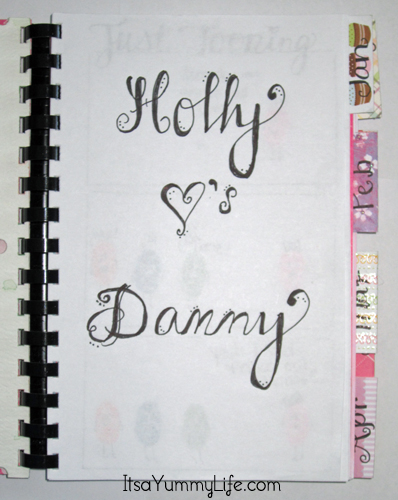 Each month has a themed page..  Imagination, Inspire, Believe, Dream, Love, Hope, Friends, Faith, Trust, Happiness, Pretty, Create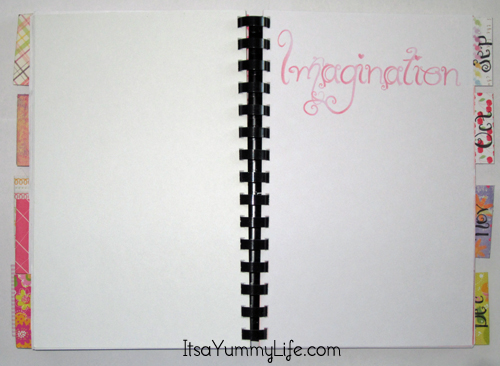 Here is my binder.  Bought this at an office store, and have to say, love it!  Super easy to use!  If you do not have a binder, and do not plan on getting one, you can also punch holes, and lace with ribbons.
Happy 2013 my friends.  Cheers!
---